ADVERTISE WITH US
ADVERTISE WITH US
READ FREE TRAVEL DIGITAL MAGAZINE | SPRING - SUMMER 2022 | ISSUE NO 5


---
10m
10 Million photo & video views / Per year
Social Media + Website
---
#1
The most reliable online magazine
for resorts, hotels & villas in Greece
---
108
Visitors ( Travelers &  Travel Agents )
from 108 countries around the world / Per year
Website
---
12m
More than 12.500.000 Viewers ( Travelers &  Travel Agents ) over
the past 7 years in our social media + website worldwide
---
OUR MISSION
500besthotelsgreece.gr Online and Digital magazine is the most reliable source  for sophisticated travelers who crave to experience an inspiring Travel lifestyle.
Designed to recommend that the more refined Greece has to show, from the most luxurious hotels resorts & villas up to eating and drinking and to the most immersive destinations either it's summer or winter.
500besthotelsgreece.gr tempts you with content to come and experience the delights Greece, has to offer.
---
500besthotelsgreece.gr OFFERS
SEVERAL INNOVATIVE WAYS
TO INTERACT WITH:
Sponsored Posts
Custom Hashtags
Facebook
Instagram
YouTube
---
Advertise with us 
If you would like to advertise in our online
and digital magazine, please contact:
E-mail: info@500besthotelsgreece.gr
E-mail: 500besthotelsgreece@gmail.com
E-mail: 500bhg.magazine@gmail.com
---
ADVERTISE WITH US - DIGITAL MAGAZINE
COMING NEXT ISSUE NO 6 | SPRING - SUMMER 2023

• Magazine Readership: 500.000+ readers worldwide.
• The magazine is annual and is uploaded electronically on our website and on the issuu platform, it is written in English, free of charge for the readers and can be read freely from all countries of the world.
• The Digital Magazine | Spring - Summer 2023 | Issue No 6 will be promoted with advertising campaigns in Greece and worldwide (Google Ads, Facebook, Instagram & YouTube).
---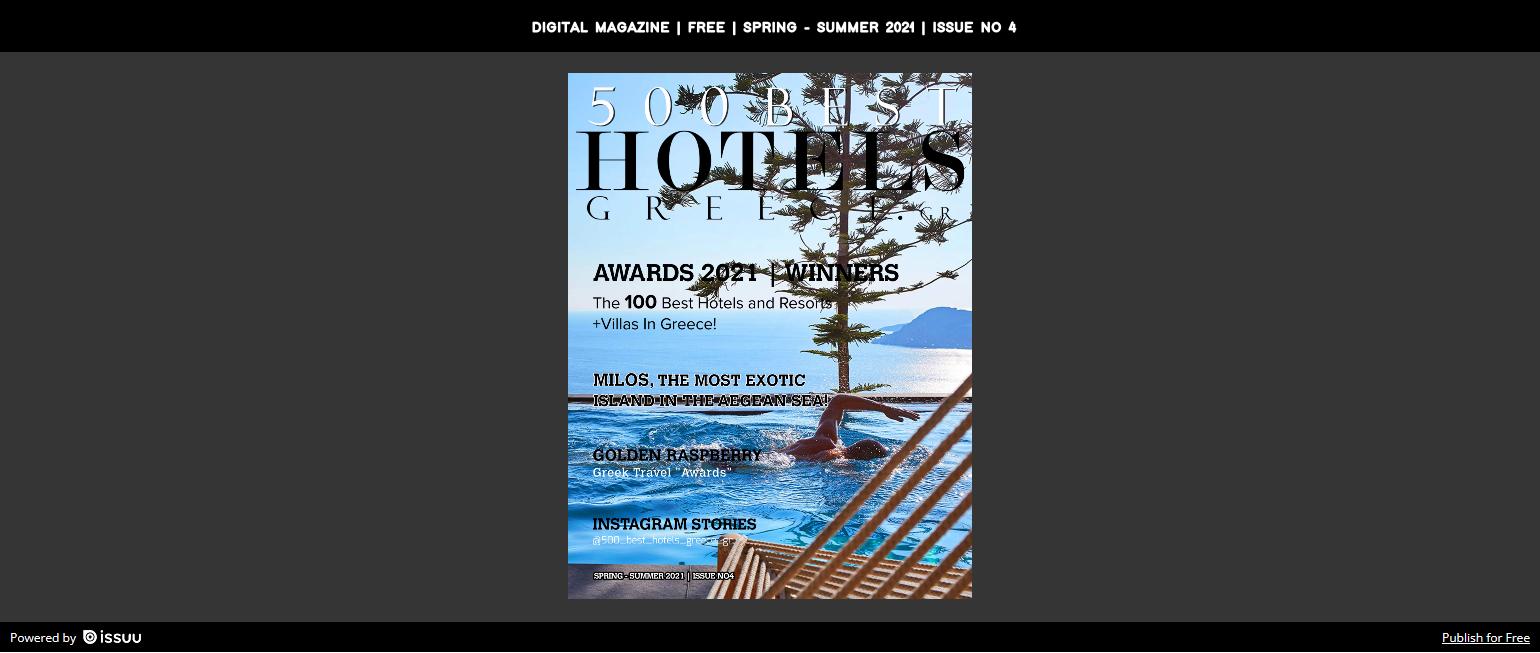 ---